Description
Authors' Bio:

Dr. Garry Mehrabian is a Medical affairs / Drug safety expert has more than 25 years of experience in pharma/CRO industry. He gained his experience working within clinical, medical affairs and pharamcovigilance roles as medical advisor, medical monitor, drug safety physician, clinical research physician and medical director. His experience covers many major therapeutic areas, including: Oncology, Haematological Malignancies, Cardiovascular, CNS, Anti-Infective / HIV, and Immunology. The roles he has hold in the past include: Medical Monitor at BAYER, Germany; UCB-Celltech, UK; i3 Research, UK; Cmed, UK; Neometrix Consulting, Canada; Drug Safety Physician at PAREXEL, UK; Johnson & Johnson, UK; i3 Research, UK; Eisai, UK; Chiltern, UK; Neometrix Consulting, Canada; Senior Medical Advisor/Clinical Research Physician at GSK, UK; UCB Celltech, UK; Medical Director Oncology at i3 Research, UK; Neometrix Consulting, Canada; Medical Director PVG at i3 Research, UK; and Global Director PVG at  Chiltern, UK.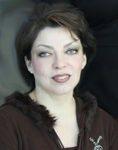 Dr. Afsaneh Motamed Khorasani is a Medical Affairs expert and a Senior Scientist with a strong background in biomedical science and clinical trial/research. She has a tenured and diverse range of experience in medical affairs, basic and industrial clinical research and development, clinical trials, Medical and regulatory writing and intellectual property. She is currently the Vice President of Medical Affairs at Easy Global Training, which is a US-based firm providing global regulatory, quality and medical affairs training backed by consulting. Before joining this company, Dr. Motamed Khorasani has served as an independent consultant, director of medical affairs, senior medical sciences liaison, senior scientist and senior medical analyst at Merck (MDS), Johnson & Johnson, United States Pharmacopeia Convention (USP), Amgen, Baxter International, Covidien (eV3), Radient Pharmaceuticals, AMDL Diagnostics, Microbix Biosystems, Neometrix Consulting, Mount Sinai Hospital, Princess Margaret Hospital, and Vancouver General Hospital. She has more than 20 years of experience and many National and international certificates in GLP, GMP, ICH-GCP and global regulatory compliance for clinical trials and is a member in a number of professional associations, including: American Association of Cancer Research (AACR), American Medical Writers Association (AMWA), Regulatory Affairs Professional Society (RAPS), American Society of Quality (ASQ), Project Management Institute (PMI), and Intellectual Property Institute of Canada (IPIC).

Overview
The Basics of Medical Review e-Book is specifically designed for the medical monitors (MM) in order to provide a comprehensive overview of the tasks and reponsibities at the sites of clinical trials. The medical monitors are often a medical doctor (MD) who works directly with the pharmaceutical companies or contract research organizations (CRO) to contribute in designing and reviewing the protocols for proposed clinical trials, building case reports, or managing clinical research projects while providing specialized medical input for medically-related issues occurring during clinical trials. Medical monitors often play a critical role in the clinical trial review process. Generally, the process flow for medical review is that the Medical Monitor who is assigned to the task completes the medical review of the Serious Adverse Events (SAE) reports within 24 hours of their receipt.
This 9-page e-Book (The Basics of Medical Review e-Book) provides a brief explanation on the role of Medical Monitoring and the importance of Medical Monitoring, the minimum items to be included in the SAE Medical Review Form along with a template to enable you to create your own Medical Monitoring Forms.
Learning Highlights
By reading / following this guide (The Basics of Medical Review e-Book), you will be able to:
Understand and define the role of Medical Monitor and Medical Review
Understand the importance of Medical Monitoring as applicable to clinical trials
Define and list the minimum information fields required for SAE Medical Review Form
Generate your own Medical Review Form following the Medical Review template provided along with the material covered in this session
Who Can Benefit From The Basics of Medical Review e-Book
Clinical Trial Managers
Medical Monitors
Principal Investigators
IRB Members
Project Managers
Regulatory Compliance Personnel
Quality Control / assurance Personnel
Details
ID:                                    1365
SKU:                                EB-0002-RC
Type:                               e-Book
Format:                          Downloadable PDF File (.pdf)
Date of Last Update:   Feb 20, 2017
Length:                           9 Pages (including the Template)
Course Level:                Moderate/Advance
Price:                              $50.00
Notes
Upon Check out, check your basket to make sure you have the right products for your need.
Fill out the billing information and enter Coupon Code if you have one.
Press "Proceed to PayPal" to pay for your selected products in the basket.
You will be directed to PayPal for payment, where you can pay with a credit (Visa, Master Card, American Express, and Discover) or debit card (You do not need a PayPal account).
After purchase, you will be redirected back to the website.
The link to download the PDF version of the document will be sent to you in the e-mail you will receive upon your registration and payment.